11-11-20
What's New for the 2021 Nissan Pathfinder in Monclair?
The Nissan Pathfinder is a best-selling full-size SUV that has been an integral part of Nissan's vehicle lineup since 1986. This means that the Pathfinder has survived as a best-selling model in one of the most competitive vehicle classes on the auto market for more than three decades. The 2021 Nissan Pathfinder in Montclair continues to impress drivers!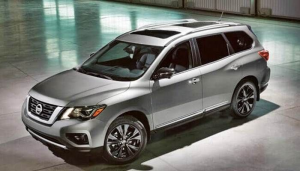 2021 Nissan Pathfinder in Montclair
A major contributing factor to the lasting success of the Pathfinder on the auto market is Nissan's ready willingness to continuously update and upgrade their vehicle models as needed in order to keep up with the ever-changing times and trends on the mainstream auto market. 
If you're in the market for a full-size crossover SUV and are considering the Nissan Pathfinder, keep reading to learn more about the updates, upgrades, and all-new features that will be newly available for the all-new 2021 Nissan Pathfinder. 
New Powertrain Options 
One of the most notable changes between the 2020 and 2021 Pathfinder models is the fact that the 2021 Pathfinder is available with brand-new powertrain options. The base engine of the 2021 Pathfinder—a 3.5-L direct-injection V6 engine that delivers 284 horsepower—is similar to that of the 2020 Pathfinder. 
However, higher trim levels of the 2021 Pathfinder are also available with a 2.0-L four-cylinder turbocharged inline-four engine that is more powerful than this three-row SUV's base engine. 
The 2021 Pathfinder will also likely be available with a nine-speed automatic transmission system either as a replacement for or in addition to its current continuously variable transmission system. 
This nine-speed automatic transmission paired with an available turbocharged engine will significantly enhance the acceleration and overall performance of the 2021 Pathfinder on the road. This all-new SUV is expected to have a 0-60 MPH time of 7.0 seconds and a top speed of 140 MPH.
Family-Oriented Interior 
Many drivers and auto critics complained about the overly simplistic and plain interior of the 2020 Pathfinder. Fortunately, the interior of the Pathfinder got a major upgrade for the 2021 model year. The Nissan Pathfinder is a very family-oriented vehicle. It seats up to seven people and offers plenty of room for both cargo and passengers. Plus, it's functional, reliable, safe, etc. Basically, it offers everything you'd want to get out of a family car. 
For the 2021 model year, the Nissan Pathfinder is designed with a much more family-oriented interior. Its layout is still simple, but now it looks clean rather than plain. Its dashboard and center console has a clean and open layout, and its controls can be accessed easily by both drivers and front-seat passengers. Plus, as an added bonus, leather seats give the interior of the 2021 Pathfinder an upscale look and feel. 
More Passenger Room 
The 2021 Nissan Pathfinder is expected to have a build that is fairly similar to that of the 2020 Pathfinder model. However, the 2021 Pathfinder is slightly longer than its 2020 counterpart model. 
Both the 2020 and 2021 Pathfinder models are three-row SUVs and seat up to seven passengers—including the vehicle driver—at a time. However, third-row passengers in the 2020 Pathfinder tended to feel slightly cramped. 
In the 2021 Pathfinder, however, all passengers—including third-row passengers—are given plenty of leg- and head-room that eliminates that cramped, restricted feeling that some third-row passengers reported struggling within the 2020 Pathfinder. 
Improved Fuel Economy 
The 2020 Pathfinder came equipped with a fairly impressive fuel economy—considering the fact that the Pathfinder is a three-row SUV and full-size SUVs are not generally renowned for their fuel economy. This three-row SUV for the 2020 model year reached 20 MPG on city streets and 27 MPG on the highway for a combined gas mileage of 24 MPG. 
Although gas mileage statistics have not yet been released, the Pathfinder is expected to be more fuel-efficient for the 2021 model year. Because it features a direct fuel ignition and a mirror bore cylinder coating, the combustion process of the 2021 Pathfinder is streamlined in a way that lightens the weight of this SUV's engine and allows it to travel more miles on less fuel.
Contact us for more info on the 2021 Nissan Pathfinder in Monclair!
---