09-21-21
If You Haven't Considered Buying a Nissan, Here's Why You Should
Nissan is an international Japanese automaker that was founded in 1933 in the city of Yokohama, Japan. Since they were founded almost 90 years ago, Nissan has become one of the main major automakers on the mainstream auto market worldwide and many people are happy with their decision on buying a Nissan vehicle.
Renowned for their fun-to-drive performance, artistic style, and innovative high-tech features, Nissan vehicles are among the most popular models that are available on the mainstream auto market. Nissan is also committed to designing and producing only the safest, most reliable, eco-friendly vehicles that retain their value well over time. If you haven't considered buying a Nissan but are in the market for a new or new-to-you vehicle in the near future, here are five reasons why you should think about making your next vehicle a Nissan. 
Value 
One of the worst things about new cars is how quickly they depreciate in value. The value of the average new car depreciates by more than 20% after its first year off the dealership lot and then depreciates by an average of 10% every year after that first year. This means that the average new vehicle is worth less than half of its original value after five years of ownership. 
Nissan vehicles retain their original value much better for a much longer period of time than the average new car. Some Nissan vehicles depreciate in value by less than 40% over five years of ownership—which is a very low depreciation rate when compared with vehicles from other automakers that can depreciate by 60% or more after five years of ownership. The low depreciation rate of Nissan vehicles means that you will likely be able to eventually sell or trade-in your Nissan for a high percentage of the original amount you paid for it. 
Reliability 
Nissan vehicles are known for their reliability. They do not break down frequently, and they are easy and inexpensive to maintain. The number of unscheduled repairs that Nissan vehicles require on average per year is significantly lower than the annual number of unscheduled repairs that the average vehicle needs.
When Nissan's do require scheduled maintenance services or unscheduled repairs, these services and repairs are less expensive than they would be for most other vehicles. The average amount of money that drivers overall spend on maintenance and repairs for their vehicles per year is more than $650, but the average amount of money that Nissan drivers spend on maintenance and repairs annually is only $500. 
Safety 
Nissan models are some of the safest vehicle models that are available on the current mainstream auto market. Most new Nissan vehicles are equipped with a host of advanced safety and driver-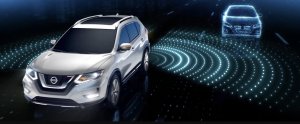 Nissan vehicles also come equipped with ProPILOT Assist
assistance features—which are combined into the Nissan Safety Shield 360 suite and include features such as automatic emergency braking, blind-spot monitoring, rear cross-traffic alert, and many more—that help these models keep everyone safe on the road. 
Many new Nissan vehicles also come equipped with ProPILOT Assist, which is an exclusive driver-assistance system from Nissan that combines intelligent cruise control with semi-autonomous driving features such as stop-and-go technology and steering assist. These ProPILOT Assist features make driving new Nissan vehicles more fun and convenient, and they also improve the safety of Nissan models on the road. 
Style 
Renowned for their artistic and unique style, Nissan vehicle models are designed with bold exteriors and upscale interiors that give these affordable models a more luxurious look and feel. 
The interiors of even the most affordable entry-level Nissan vehicles are designed with only high-quality materials, including plenty of soft-touch materials and premium wood and metal accents, as well as plenty of upscale amenities. The layouts of Nissan cabins are minimalistic with simple, user-friendly controls that give these vehicles an uncluttered, clean, open-air look and feel that is appealing to both drivers and passengers. 
Eco-Friendliness 
Nissan is an automaker that is committed to paving the way toward a more sustainable future. Nissan was actually the very first major automaker to produce the world's first mass-market all-electric vehicle—the Nissan LEAF EV—back in 2010. The Nissan LEAF inspired many other major automakers to begin designing and producing their
own all-electric vehicles and Nissan continues to be an innovative leader in all-electric vehicle technology to this day. 
Nissan vehicles are fuel-efficient and designed with sustainable materials. Nissan also has multiple hybrid and all-electric vehicles in their lineup and plans to electrify 100% of their new vehicle models by the early 2030s in order to reach their goal of becoming completely carbon neutral by the year 2050.
If you're interested in buying a Nissan car, truck or SUV, visit us today!
---