10-12-20
5 Main Reasons to Buy a Nissan Sentra
The Nissan Sentra is a top-rated compact car in Nissan's vehicle lineup. This compact car has been a top seller for years, and it underwent a major revamp for the 2020 model year. So, do you need reasons to buy a 2020 Nissan Sentra? We've got 'em!
The 2020 Nissan Sentra is renowned for its reliability, drive performance, and advanced safety and tech features that set this compact car a step or two above its competitors within its vehicle class. For the 2020 model year, the Sentra comes with a more powerful upgraded engine, a higher-end interior design, and a host of new safety and driver-assist features.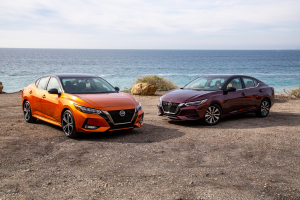 Great reasons to buy a 2020 Nissan Sentra
If you think the Nissan Sentra might be the right model for you, keep reading to learn 5 pros to buying the Nissan Sentra as your next vehicle. Our first reason to buy a Nissan Sentra:
Powerful Engine 
The engine of the 2020 Sentra is a 2.-L four-cylinder direct-injection engine. It delivers 149 horsepower and 146 lb.-ft. of torque. 
A continuously variable transmission pairs with the 2020 Sentra's engine to ensure a smooth and agile ride for drivers and passengers alike.
Our next reason to buy a Nissan Sentra is:
Excellent Fuel Economy 
As a vehicle class, compact cars tend to perform very well in the area of fuel economy. Fortunately, the 2020 Nissan Sentra does not disappoint when it comes to fuel efficiency. 
The base model of the 2020 Sentra reaches up to 29 MPG on city streets and 39 MPG on the highway. Some higher trim levels reach a slightly lower 27 MPG in the city and 38 MPG on the highway, but this marginal difference doesn't amount to much in terms of fuel costs.
Advanced Safety and Driver-Assist Features 
The 2020 Nissan Sentra is equipped with a variety of advanced safety and driver-assist features. Some of these advanced safety features include a rearview monitor, automatic braking, blind-spot monitoring, lane departure warning, and rear cross-traffic alert. 
In terms of driver-assist features, the 2020 Sentra comes with intelligent cruise control, intelligent forward collision warning, and automatic emergency braking. 
Impressive Connectivity 
In this modern, fast-paced world, staying connected at all times is very important for many people. When you're driving a 2020 Nissan Sentra, you'll have no problem staying connected while on the go. 
The 2020 Sentra comes with a 7.0- or 8.0-inch built-in touchscreen. All trim levels feature Bluetooth connectivity, and higher trim levels are compatible with Android Auto and Apple CarPlay. 
Nissan Voice Recognition is also included in the 2020 Sentra's infotainment system. This system is designed to understand vocal commands so that you can make a phone call, send and receive text messages, and choose songs from your personal music library on your smartphone without ever taking your eyes off the road or your hands off the wheel. 
Abundant Amenities 
If you're thinking about making the 2020 Nissan Sentra your next vehicle, don't forget about the abundant amenities that really give this compact car character. 
The cabin of the 2020 Sentra is equipped with zero gravity front seats, which are designed with more than 12 different pressure points to offer superior support and prevent driver and passenger fatigue—even on long commutes or after spending hours in the car on a road trip. 
A 360-degree surround-view monitor is available for certain trim levels of the 2020 Sentra. This surround-view monitor makes it much easier for drivers to maneuver around tight areas without crashing into anything.
Additional notable amenities that come as standard features or available add-on features for the 2020 Nissan Sentra include heated front seats, a power moonroof, a heated steering wheel, and a premium audio system.
---