10-02-20
Why Buy a Nissan Altima in Montclair
If you're in the market for a new car in Montclair, keep reading to learn more about why the Nissan Altima is such a quality vehicle and where you can buy it in Montclair if you decide to make this mid-size sedan your next vehicle. 
Why Buy a Nissan Altima? 
The Nissan Altima is a top-quality mid-size sedan that has been an integral part of Nissan's vehicle lineup for many years. It is a very versatile model that is a top choice among families, commuters, couples, individuals, etc. 
If you're searching for your next car and are considering purchasing a Nissan Altima, keep reading to learn 5 reasons why you should buy this mid-size sedan. 
Excellent Drive Performance 
In terms of how it performs on the road, the 2020 Nissan Altima does not disappoint. This mid-size sedan comes equipped with one of two powerful engines. Its base engine is a 2.5-L four-cylinder engine that delivers 188 horsepower and 180 lb.-ft. of torque. The alternative engine option for the 2020 Altima is a turbocharged 2.0-L four-cylinder engine that gives 248 horsepower and 280 lb.-ft. of torque.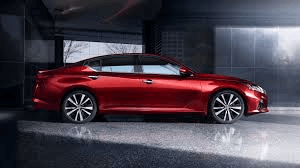 Red Nissan Altima in Montclair
Beyond its impressive engine options, the 2020 Altima's overall drive performance is excellent. This mid-size sedan is easy to handle with responsive braking and steering system, which makes the Altima both easy and enjoyable to drive. 
Comfortable Interior 
The interior of the 2020 Nissan Altima is ultra-comfortable. The Altima's cabin is very quiet and this mid-size sedan effortlessly absorbs bumps on the road to provide a smooth ride for both drivers and passengers. 
All 5 seats in the 2020 Altima are ultra-comfortable. Plus, the interior of the Altima for the 2020 model year is designed with only premium materials that give the cabin of this mid-size sedan a more luxurious look and feel.
Upgraded Infotainment System 
The Altima's infotainment system was upgraded for the 2020 model year. This upgraded infotainment system features an 8.0-inch touchscreen display that comes as a standard feature for all trim levels of the 2020 Altima. 
The 2020 Altima is also equipped with Apple CarPlay and Android Auto as standard features, which is rare even among higher-end vehicles. A 4G Wi-Fi HotSpot and a state-of-the-art navigation system are also optional add-ons to the infotainment system of the 2020 Altima. 
Advanced Safety Features 
The 2020 Nissan Altima comes with a variety of advanced safety features to help keep all passengers safe by minimizing driver distractions and reducing the risk of collisions or other accidents on the road. 
Standard safety features that come in all 2020 Altima models include front collision warning and automatic emergency braking with pedestrian detection. Rear parking sensors, blind-spot warning, lane departure warning, and high beam assist are available as optional add-on safety features for the higher trim levels of the 2020 Altima as well. 
Available Semi-Automated Driving Features 
The technology for self-driving cars is always advancing, and it seems like the reality of autonomous vehicles as commonplace might not be as far into the future as it once seemed. 
The 2020 Nissan Altima is available with a variety of semi-automated driving features. When equipped with ProPilot Assist, the 2020 Altima can adjust its own speed according to traffic on the route and can even come to a complete stop when necessary without any driver intervention. 
Where to Buy a Nissan Altima in Montclair 
If you've made the decision to make the Nissan Altima your next vehicle, the next step is deciding where to buy your Altima. Purchasing a Nissan model from an official Nissan dealership is almost always a better idea than buying your next vehicle from a corner garage or independent auto retailer.
There are many reasons for this, some of the most notable being that official Nissan dealerships tend to offer more quality guarantees, better warranties, and more flexible financing options than independent auto retailers. 
If you are located in San Bernardino County or its surrounding area, consider buying your Nissan Altima from Metro Nissan of Montclair. This official Nissan dealership is located in the city of Montclair, CA. 
At Metro Nissan of Montclair, they pride themselves on their expansive inventory of Nissan models and their commitment to providing the best possible customer service and selling top-quality Nissan models to all of their valued customers. 
Give Metro Nissan of Montclair a call or stop by their dealership lot today to get more information on their current special deals and find the Nissan Altima that's right for you and your lifestyle.
---