08-31-20
2020 Nissan Kicks Features and Add-Ons
The Nissan Kicks is one of the trendiest, most sought-after vehicles that are available in Nissan's current lineup. It is a subcompact SUV that offers impressive fuel economy, features trendy and luxurious styling inside and out, and includes some of the most advanced modern amenities that are currently available on the mainstream auto market. 
There are many reasons why the 2020 Nissan Kicks has made such a splash on the auto market. In addition to a solid foundation from previous model years, the 2020 Kicks also features an array of exciting features that are all-new for the 2020 model year. If you've got your eye on the 2020 Nissan Kicks, here are 5 of the best features and add-ons that are available for the 2020 model of this subcompact crossover SUV. 
Next-Level Personalization Options 
Imagine a car that is designed especially with your specific needs, preferences, and lifestyle in mind. The next-level personalization options that are available for the 2020 Nissan Kicks allow drivers to really make the 2020 Kicks their own. 
The 2020 Nissan Kicks comes in three trim levels: S, SV, and SR. The exterior color and interior materials of the 2020 Kicks are both fully customizable. Each trim level of the 2020 Kicks offers slightly different amenities, allowing Nissan drivers to balance their budget with the amenities they prioritize for their vehicle. 
Plus, the 2020 Nissan Kicks is available with multiple add-on packages and features. The SR Premium Package, for example, tacks on $1,000 to the Kicks' original price and comes with a Bose premium audio system with 8 speakers, a vehicle security system, heated front seats, and exclusive bright orange seat trim, accents, and stitching. 
Best-in-Class Fuel Economy 
You're almost guaranteed to save money on gas if you make the 2020 Nissan Kicks your next vehicle. The fuel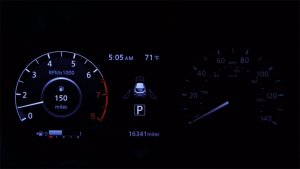 Nissan Kicks Fuel Gauge
economy of the 2020 Kicks beats out that of all other models within the subcompact crossover SUV vehicle class.
This fun vehicle offers an impressive fuel economy of 31 MPG on city streets and 36 MPG on the highway for an estimated combined gas mileage of 33 MPG. 
Advanced Safety and Driver-Assistance Features 
In order to encourage drivers to keep their eyes on the road at all times and keep both drivers and passengers safe, the 2020 Nissan Kicks comes with a wide variety of advanced safety and driver assistance features. 
Some of these advanced safety and driver assistance features are available as add-ons, but many come as standard features for all 2020 Kicks models. These standard features include lane departure warnings, high beam assistance, rear cross-traffic alerts, a blind-spot warning system, automatic emergency braking, rear automatic braking, and pedestrian detection. 
Adaptive Storage Space 
The 2020 Nissan Kicks is renowned for its lightweight design and its sleek, agile body that is easy to maneuver through traffic, into narrow parking spaces, etc. Even so, the agility and compact size of the Nissan Kicks does not detract from the interior space that this subcompact crossover SUV offers. 
The interior space of the 2020 Nissan Kicks adds up to an impressive 119.2 cubic feet of interior volume. This subcompact crossover SUV's maximum cargo capacity is 53.1 cubic feet, which is accessible when the rear seats of the 2020 Kicks are folded flat. Several small-item compartments also add to the functionality and convenience of the 2020 Nissan Kicks' available adaptive storage space. 
Impressive Connectivity 
For many modern drivers, staying connected even while on the go is the main priority. Connectivity in vehicles has advanced considerably over the last few years, so much so that it has become a priority for many drivers and a major selling point for modern vehicles that excel in this area. 
The 2020 Nissan Kicks certainly doesn't disappoint when it comes to connectivity. This subcompact crossover SUV comes with a variety of available amenities for connectivity. It is compatible with Apple CarPlay and Android Auto, so you can access apps, 
navigation, messages, phone calls, etc. straight from your smartphone while on the road. It also includes three USB ports that are scattered around the 2020 Kicks' spacious interior. Both drivers and passengers alike can charge their mobile devices at the same time using these convenient built-in USB ports. 
The 2020 Kicks is also equipped with Nissan Intelligent Mobility, which includes a variety of features that promote safe connectivity while on the go. This subcompact crossover SUV includes a Hands-Free Text Messaging Assistant, SiriusXM Travel Link, and SiriusXM Traffic. The Text Messaging Assistant allows you to send and receive text messages without taking your eyes off the road or your hands off the wheel. The SiriusXM Travel Link and Traffic features provide drivers with exclusive access to information regarding parking, weather, best routes to your destination, the cheapest gas available locally, and much more. 
The 2020 Nissan Kicks' many connectivity features keep you connected while encouraging safety and discouraging distracted driving at all times. 
---