08-27-20
Are Nissan Labor Day Specials A Good Time To Buy
Labor Day is fast approaching, and with it comes promises of special deals and discounts on everything from laptop computers to mattresses to vehicles. A wide variety of big-ticket items traditionally go on sale on Labor Day. 
If you're in the market for your next vehicle, Labor Day Weekend is an ideal time to buy a car. There are multiple reasons why Labor Day Weekend is renowned as one of the best times of year to buy a car. First off, it is a 3-day holiday weekend and many car dealerships offer special deals and discounts in honor of extended holiday weekends in order to promote the models available on their lot and entice drivers to make a purchase. 
Labor Day also happens to fall near the end of the month of August. Car prices tend to fall at the end of every month. This is due to monthly sales quotas that are a fixture at most car dealerships. Car salesmen are more eager to meet their monthly sales quotas as the end of the month looms closer, so they are more likely to offer lower prices on popular models in order to convince customers to make their purchase official. 
Finally, August and September are considered two of the most affordable months of the year in which to buy a used car or a car from the current model year. This is because most automakers release their updated and upgraded models for the next model year close to the start of the last quarter of the current year. The expectation of new releases flooding their lots drives car dealerships to offer special deals and discounts on older models in order to quickly clear them from their lot to make room for new models that are soon to be released for the next model year. 
These 3 factors all contribute to the special, exclusive deals and discounts that are commonly offered by automakers and car dealerships alike over Labor Day Weekend. 
Nissan Deals on Labor Day 
Labor Day is traditionally one of the best times of the year to get a good deal on a new car, and many major automakers offer special deals and discounts over Labor Day weekend. Among automakers that do offer discounts in honor of Labor Day, not every automaker offers the same deals. Nissan has already advertised multiple special Labor Day Weekend deals on specific models.
For Labor Day 2020, Nissan is offering a lease deal on the 2020 Nissan Rogue compact SUV. This deal is specific to 2020 Rogue models that are equipped with the available premium package and all-wheel-drive. The lease deal includes monthly payments as low as $189 with an initial signing payment of just $3,489. Even better, you don't have to have good credit in order to qualify for this deal. If you're interested in leasing a Nissan and have your eye on the Nissan Rogue model, this Labor Day deal from Nissan is a great opportunity. It is rare for automakers to offer special lease deals on upgraded, non-base models, so Labor Day 2020 might be your only chance to get such a good lease deal on a premium compact SUV. 
The 2020 Nissan Titan is also featured in Nissan's special Labor Day Weekend deals and discounts. Nissan is offering a purchase deal on the 2020 Titan and Titan XD models that include 0% financing for 72 months in addition to up to $3,000 in bonus cash. This is an exciting deal for many Nissan fans, as models from the Titan,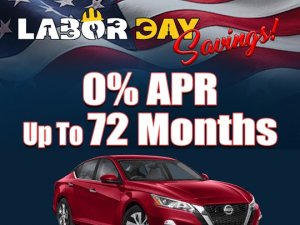 Metro Nissan Montclair Labor Day Specials
a full-size pickup series are among Nissan's most popular and beloved models on the mainstream auto market.
Nissan is also offering special finance deals on many of their models. They are currently offering 0% financing for 60 months with up to $1,500 bonus cash on several Nissan models from 2020 and previous model years. 
It's important to keep in mind that deals and discounts aren't just up to a vehicle's automaker, either. Many individual car dealerships often offer exclusive Labor Day discounts on certain vehicles on their lot as well—independently or in addition to deals and discounts set by automakers.
If you want to take advantage of Nissan Labor Day specials over the weekend to purchase your new Nissan, you have to move quickly. Most of the special deals Nissan is currently offering expire on September 8th. Visit your local Nissan dealership before that date to take advantage of these special deals from Nissan—in addition to any exclusive deals that dealership might offer as well. 
---